Recognized by the key players Hostys Connect is THE reference for business meetings of the luxury hotel and residential sectors. The story behind it? Ten years ago, two women, Yumna Chabrol and Jenny Bachelot, understood how to combine their acumen and experience in this field. Hoteliers, architects, interior designers, suppliers, the duo has created a connected, qualified community, driven by their values and their innate ability to connect people with each other. Founder Yumna Chabrol talks to DOMODECO about her vision of this fast-changing sector.
What are the foundations of Hostys Connect?
It's a disruptive format that alternates qualified face-to-face meetings with informal moments to create optimum networking conditions. Over the past nine years, Hostys Connect has created a strong community in which numerous projects and collaborations have been initiated. People who belong to this network use it as a magic word to reconnect with other companies in the market. Many of them have developed thanks to Hostys Connect and have contributed to making it THE reference for business meetings.
What is the commitment of this event?
To support companies in their development in luxury specification sectors in France and abroad in a responsible and committed way. It also means bringing together the entire hotel value chain to create virtuous encounters.
On the strength of this expertise, what are your views on the major trends in the hotel market?
The days when standardization offered the illusion of reassuring customers are over. The hotel industry is tending towards the unique, offering a different experience with every stay. It is becoming a destination in its own right, with a social role that encourages encounters and sharing: the city is entering the hotel and becoming part of the working dimension, but also part of everyday life, and even exceptional experiences, such as having breakfast or discovering the starred cuisine of a chef or pastry chef.
Your event is positioned on a luxury level. What do you think defines this concept in today's hotel industry?
There are many markers of luxury, but there are a few that are commonly used to define it: space, well-being, extremely personalized service, excellence, emotion, refinement, rarity and craftsmanship. Luxury in the hotel industry is also about the dream it gives everyone.
Is it essential for hoteliers to have a signature architectural style?
Involving an interior designer in the creation or renovation of an establishment plays a major role in improving its occupancy rate. It's also a way of guaranteeing a quality experience that will create an important notion: memories. That's what Hostys Connect is all about: enabling hoteliers, in one place and at one time, to discover the expertise of talented interior designers who will help create these exceptional places. It's a great time-saver for them and a unique opportunity.
Are top-of-the-range para-hotel residences an emerging area of development?
It's an area that's developing very rapidly in France; it's been adopted by the Anglo-Saxons for some years now. These are investment products that offer good returns and diversification for investors, offering the possibility of reaching a different clientele.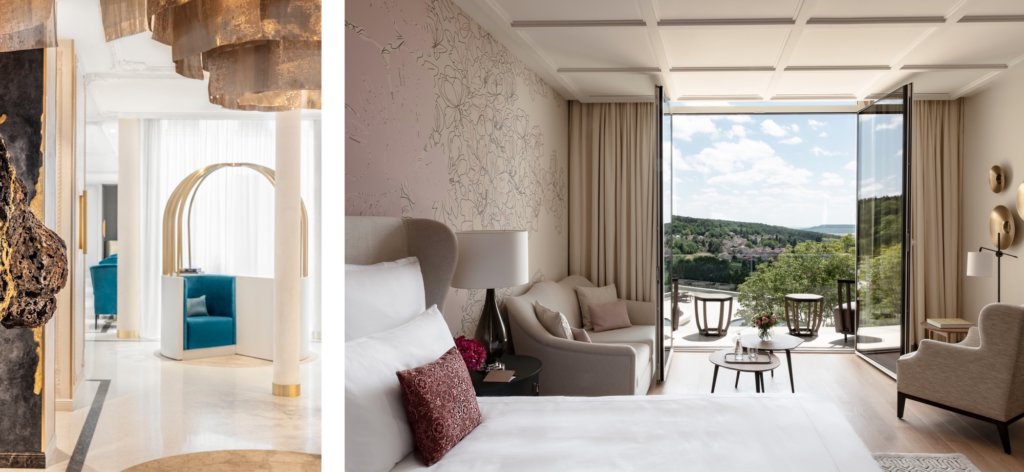 What are the current trends? In particular, the design approach of the architects and interior designers?
Responsible commitment, well-being and sharing are what customers are looking for in order to reduce their environmental impact and support local economy. Awareness of environmental consequences of the hotel industry has led these players to reinvent their offer to respond to issues of sustainability and quality. The entire hotel production chain is now concerned, in particular the choice of suppliers, responsible materials and local manufacturing methods, but also a greater emphasis on digital technology. These are all determining factors in the creation of an ethical, quality hotel product that interior designers are integrating into the design of their projects.
How do you see the luxury hotel industry evolving over the next few years?
The luxury hotel industry will make greater use of new technologies and artificial intelligence to offer its customers a wider range of new, ever more personalized experiences. But it will also be moving towards more services to satisfy a clientele of UHNWIs (Ultra High-Net-Worth Individuals) who have grown considerably in recent years, and are looking for exceptional products that meet their expectations.